Recreation
Fun in the sun is available to all in Kingman. From the ancient times of the Hualapai (People of the Tall Pines) Tribe to present-day residents, an appreciation of the natural beauty and resources has been an underlying theme in Kingman. From beautiful, sun-soaked desert skylines to refreshing fun in the water of the Colorado River, Kingman is the center for regional outdoor recreation and truly a Gateway to the Southwest!
Parks 
Kingman offers numerous outdoor activities perfect for the solo adventurer or family looking for their ideal picnic spot. With 16 public parks sprinkled throughout the city, families, friends (even the four-legged kind), and individuals can find the recreation they love. From pickleball to picnics, skateboarding to swimming, and soccer to softball, fun in the sun is easy to find in Kingman! The city's Parks & Recreation Department is an excellent resource for the city parks, pools, and trails. 
Golf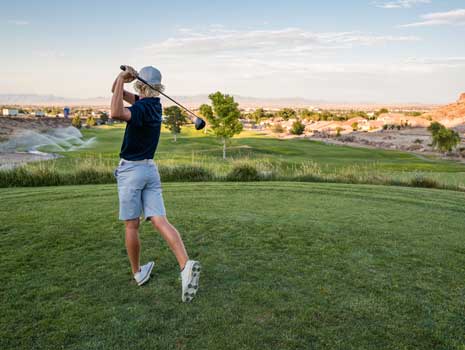 The incredible weather of northern Arizona lends perfectly to year-round golf. Cerbat Cliffs Golf Course is Kingman's municipal 18-hole golf course and a favorite dating back to the 1930s. Valle Vista Golf Course is a short drive from town, offering an 18-hole course amidst the fabulous high desert surroundings. Serious golf enthusiasts can make quick and day trips for seemingly unlimited options to hit the links in Phoenix, Flagstaff, Henderson or Las Vegas. 
Gateway to the Southwest Wonders
You can drive from Kingman to many world-renowned travel destinations from mere minutes to a few hours. The closest is the 2300-acre Hualapai Mountain Park, where visitors cool off in the summer or experience the snow-covered landscape in the winter. The beautiful, refreshing oasis with elevations ranging from 5000 to 8,500 feet has year-round cabins, RV parks, campgrounds, picnicking, hiking, and more.
Miles and miles of trails crisscrossing through the 2.4 million acres of public land managed by the BLM Kingman Field Office offer hiking, biking, ATV-riding, and more. 
The west entrance of the Grand Canyon National Park is a mere 70 miles from Kingman, giving access to numerous outdoor opportunities, illustrated with the Grand Canyon West video below. 
Water recreation is abundant throughout Mohave County, with over 1,000 miles of shoreline on the Colorado River, Lake Mead, Lake Havasu and Lake Mohave. These areas provide fishing, boating, swimming and water sports.
Perhaps the most iconic scenic drive in the country is the Route 66 Historic Back Country Byway, a 42-mile stretch of preserved original Route 66, including Sitgreaves Pass and its hairpin curves.
Visit the City of Kingman Office of Tourism's website or contact us today for information on Kingman's access to the Southwest U.S.
Distances to Southwest Attractions
Lake Mohave & the Colorado River: 45 min
Lake Havasu London Bridge: 1hr, 3min 
Hoover Dam: 1hr, 14min 
Grand Canyon Skywalk: 1hr, 15min 
Las Vegas: 1hr, 41 min
Havasupai trailhead: 2 hrs 
Valley of Fire: 2 hrs 20 min 
Grand Canyon National Park: 2hrs 45min 
Meteor Crater: 2 hrs 47 min 
Sedona: 2 hrs 52 min 
Phoenix /Scottsdale: 3 hrs 
Petrified Forest: 3 hrs, 43 min 
Zion National Park: 4 hrs, 11 min 
Brian Head Ski Resort: 4 hrs, 37 min 
Monument Valley: 4 hrs 55 min 
Universal Studios: 4hrs 57min 
California beaches: 5 hrs 
Bryce Canyon: 5 hrs 28 min 
Sea World: 5 hrs, 41 min 
Puerto Penasco, Mexico: 5hrs  53 min